PicsKit – Free Photo Art Effects Editor 2.1.8.1 Apk for Android
PicsKit – Free Photo Art Effects Editor

2.1.8.1
Apk for Android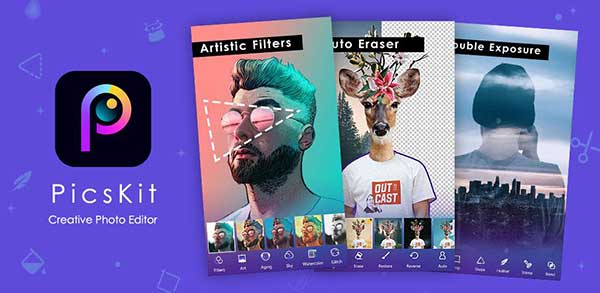 PicsKit 2020 is a layer-based photo editor for everyone to make creative designs on mobile. An all-in-one photo lab & photo editor with everything: dripping art effects, neon stickers, background eraser & cutout, body retouch, face effects, photo collages, unlimited image layers, art frames, blending, color pop, photo montage, portrait cartoona, sun blinds filters, quickart templates, pixel & picku effect, artistic toonme, dispersion effects, split tone and other advanced tools. It would be the best art photo editor you can ever find!
Get ready to create stunning designs with PicsKit photo editor!
•Background Eraser & Cutout
Use this pics app & photo lab to change background or remove objects from any split tone photo with background eraser. The cutout tool enables you to make custom stickers & memes. Create bazaart art to achieve enlighting effects
•Body & Face Effects
Retouch your body, smooth and rejuvenate your skin, make your look slim and hot! Polish your selfie with this pics app and make face effects
•Remix Filters & Blending Modes
Overlay photos to produce exposure art effects with various blending. Use double exposure filters to merge photos seamlessly & create surreal photo image montages with different blending modes in this photo editor
•Free Stickers & Make Your Own Stickers
Stickers of various themes are updated weekly. Lots of neon and drip stickers free to use! Use eraser & cutout to make stickers & memes. Build a sticker gallery and art frames of your own
•200+ Filters
Polish photos in seconds with the unique sun blinds avatan filters, art and cartoon filter effects and other artistic toonme, glaze & avatan filters, indie kid filters in this picskit photo editor
•Unlimited Layers
Add as many pixomatic layers as you want in this art & neon photo editor. Every layer of image, text and sticker can be superimposed and edited. With this photo editor, you can create baz art photo collages, grid style and art frames in each layer
•Photo Collage Template & Grid Maker
Choose several pictures and this template maker helps you remix them into art photo collages. Create photo grids and art frames with picture editor effects like filters, stickers, text, preset collages, grid style, customized ratio
•Fine-tuned Adjustment
Exposure, contrast, saturation, clarity, highlight, shadow, face effects, split toning, etc
•Blur Background
Shape blur, radial blur & auto blur. Blur photo background to apply DSLR & D3D Blur Pixel Effect
•Color Splash
Make creative picku art photos with selective colorization face effects, a combination of color splash and color pop quickart
•Dispersion Effects
Like dispersion or dust effects? Try our Dispersion tool to get dispersion effect in a tap
•Glitch Photo Editor
Glitch Photo Editor provides different special effects to create intense visual conflicts in old-school & modern digital styles, making impressive glitch photos
•Versatile Tools
Crop, rotate, reshape and adjust the transparency of photos precisely. An photo editor & photo lab with 200+ filters, fonts and stickers. No crop frame is provided for photo editing & sharing photos directly
This is a photo editor & photo lab that has everything you ever need. Enlight yourself to procreative photo editing enlightening layout works. Apply various darkroom filters & presets to achieve stunning picture art, afterlight, aiportraits, pixel effects. Check new features to make quick art, pic shot, picku drip & neon effects in a tap. Fill in colors to get gradient canvas. Merge, mix and blend different pictures into one to make photo collages and photo montages. Scan through the lumii pics hub, photo editor & stickers and fonts to find the one that suits you the most. Use Avatan AI portraits & touchretouch for objects removal in this picture editor. Reshape your body, retouch your selfies in this photo editor & face lab.
If you need any help, please email us via cerdillaczha[email protected]. We'll get back to you as soon as possible.
WHAT'S NEW
-Bug fixes and performance improvements.
-If you need our help, please feel free to email us at ki
[email protected]
. We'll get back to you as soon as possible.