Car Eats Car 3 – Racing Game 2.9 b491 Apk + Mod for Android
Car Eats Car 3 –

Racing Game

2.9

 
Apk + Mod for Android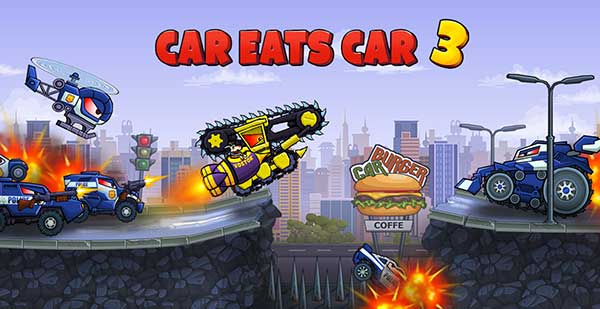 Up for a fight against cops in a unique off-road race? The legendary car action arcade is coming back! Escape from the police in Car Eats Car 3! Good driving skills and turbo speed come in handy in this crazy driving simulator and police chase game. Become a car tycoon, upgrade cars, and play for monster cars against the cops just for fun and action!
Overtake your rivals!
The ultimate off-road chase race is going to start! There are no fines in the arcade racing sim game Car Eats Car 3, but you can go to jail! Do not let the cops arrest you! Drive fast to get away and escape from police cars. Every race is a challenge! Turn on nitro and make street racers and cops respect you!
Drive the cool cars!
Get a chance to drive the coolest cars in the online world! Harvester, Lokomachine, Francopstein, Tankominator – everyone dreams of playing missions in these cars!
Upgrade your racing car!
To get the police off your back in the chase, upgrade your cars with extra speed, ammo, weapons, nitro, and turbo boosts. Create unique cars from parts obtained in each of the racing levels! During the survival race, fire bomb, freeze your enemies, and paralyze all of the driving competitors with an electromagnetic pulse.
Become the king of car chase racing and drive against the police!
Overtake the police cars in the colorful locations of the bustling city, hellish desert, or paradise island – also in offline modus! This is a car smasher simulator without rules or restrictions! Do not try to avoid accidents in this challenging game: Insane driving speed and danger are the only meaning of life!
Destroy the enemy!
Smash and destroy cars with bombs in this online fast car racing simulator and escape from the police! Do more damage and shoot fire at everything! Blast your way forward and conquer the road, but above all, survive the challenge!
● 🚗 New cars – boost, unlock, and upgrade new cars, vans, trucks, and other 4×4 vehicles and drones. Try online or offline!
● 🛠️ Tools – collect coins and improve car's characteristics and racing skills, like speed, damage, and turbo-mode; play without limits!
● 💥 Objects – chase and crash enemies with the aid of a missile launcher, freeze ray, magnet, bomb generator, and EMP emitter;
● ⛰️ Maps – explore new locations and objects, like hill, mountain, or highway;
● 🎯 Action missions – drive & deal with tough tasks… and amazing flips and stunts. What are you waiting for?
● 🏅🏆 Online Tournament – become the first one on the highway regardless of the traffic.
Drive with no fear and help your friends in this police chase game! Test your turbo off-road driving skills – overtake police cars and escape from prison! Get behind the wheel of an evil car racer. There's no rival for you in these races!
Create unique cars for racing, your monster car! Do not let the evil cop attack and arrest you and put the car smasher in jail! The wild racing awaits you in this arcade driving simulator and car battle game! In the car tycoon game, you can buy and upgrade cool cars! Find out what the offline car battles are with Car Eats Car 3! It's all about playing and having fun!