Asia Empire 2027 2.7.2 Apk + Mod (Unlimited Money) for Android
Asia Empire 2027 2.7.2 Apk + Mod (

Unlimited Money

) for Android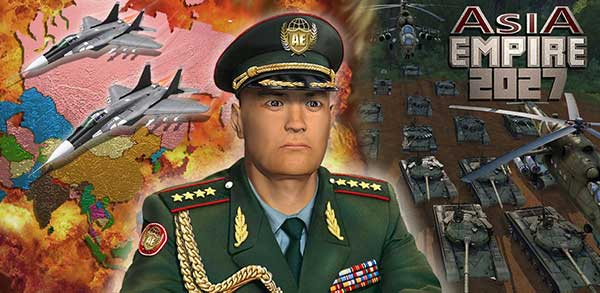 Become the greatest leader of the Asian Empire!
Select your country you wish to lead (50 countries available!) and play against the smart AI enemies. With excellent leadership skills, strategy and tactics, you could lead your country to the win.
Do you have what it takes?
It is the year 2027 and a big uprising took the existing government.
As the new leader, your goal is to ultimately become the supreme leader.
Using everything from diplomacy to war, you must strive to build an empire, both economically and militarily superior to all others.
Are you ready to lead, Supreme Commander?
Features:
Diplomacy and United Nations
Weapon suppliers (USA, EU, Russia and China)
Spy Center
War Room
World News (Economy, Relations, Spy and War)
Artificial Intelligence
Available Weapons:
Mercenaries, Armored personnel carrier (APC's), Tanks, Artillery, Anti-Air Missiles, Helicopters, Fighter Jets, Ships, Submarines, Fighting Robots, Unmanned Aerial Vehicles (UAV's) , Aircraft Carriers and Ballistic missiles.
Multiplayer options
The game support single player and multiplayer modes.
Can play up to 7 Human players + 21 Artificial Intelligence (AI) players in each world. (Max 28 countries)
As player can create and play in multiple worlds at the same time. (Select and play)
Create your world and define: Alliances, map theme selection, turn time frame, resources etc…
iGindis its your way to make new friends around the world with no language barrier.
Using our in-game automated translated messages will help everyone to communicate and understand each other.
WHAT'S NEW
* New Zombie Nation scenario added.
Will you save your nation and ‎survive?
Please read more in our social media about it.

‎* Updated many countries' armies, relations and economy based on real world data.‎

‎* Fixed reported issues and continue to improve Artificial Intelligence.‎

We plan to add countless new scenarios & diplomacy & spies & war options, new technologies…‎
Your support is important to us to continue developing.‎
Thank you,‎
iGindis Team