The Mighty Quest for Epic Loot 7.2.0 Apk for Android
The Mighty Quest for Epic Loot
7.2.0
Apk for Android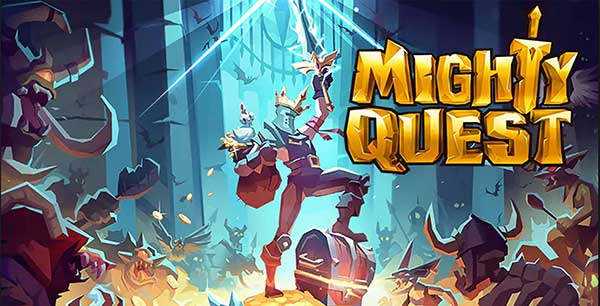 Loot big or die trying! Let the Mighty Quest begin!
Enter the magic lands of Opulencia: defeat the craziest foes, find epic loot and claim the King's throne!
Fight epic battles and become the mightiest Hero of all in this intense Action RPG adventure!
FRANTIC ONE-THUMB GAMEPLAY
Grab your phone and tap to slash! Experience wild brawls at a frenzied pace! Fight your way through goblins, skeletons, banshees and all kinds of fearsome creatures.
A WONDERFUL WORLD TO CONQUER
Discover Opulencia, a stunning world of floating castles. Hack through more than 100 unique environments from the Cursed Cathedral to the Haunted Pirate Ship.
BUILD YOUR OWN HERO
Become the Hero of your dreams! Open character building allows for unique builds and deep playstyles. With over 1000 unique items of gear, it's time to get creative!
GEAR UP, NEVER GIVE UP
Enhance your Hero by looting tons of epic weapons, awesome armor and legendary artefacts. Upgrade your sword, fuse and empower your gear, and kick some monster butt!
RAID TO THE TOP
Level up your powers with tons of runes and blessings, unlock formidable skills, and unleash devastating abilities!
MASSIVE PVE CAMPAIGN
Learn the tricks and traps of each castle, and crush its mighty boss to discover the truth about Opulencia. Tackle 3 different difficulty modes, all-you-can-eat!
WHAT'S NEW
NEW UPDATE : LOOT THEM' HALL!
Time to proudly show off that precious loot of yours through a unique kind of Collection system!
Collect SETS and EPIC GEAR to earn PERMANENT STATS UPGRADE for your Hero! A new way to become mightier than ever!
Also new in this update:
– Improvement of the VAULT feature: upgrade it to gain more inventory slots!
– Balancing rework on Guild events for a more competitive leaderboard!
– A lot of bug fixing & improvements!
Stylishely yours,
Lord McBucket