Overdrive City – Car Tycoon Game 1.4.25 Apk for Android
Overdrive City – Car Tycoon Game
1.4.25
Apk for Android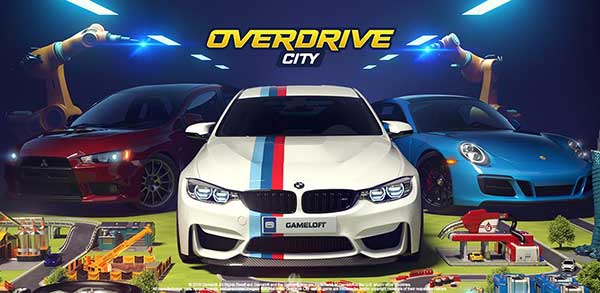 Build the car town of your dreams in Overdrive City! Manufacture fleets of vehicles, collect a variety of iconic cars, and compete in a challenging racing career mode. Grow your tycoon city to become a global motorsport enterprise and the top race champion!
BUILD AND COLLECT YOUR FAVORITE CARS
• Manufacture 50+ famous car models from Lamborghini, Porsche, Ford, and other top brands!
• Show off your garage of sports cars, classic cars, and supercars to everyone in your town.
• Produce car parts ranging from steel bolts and carbon fiber to engine blocks and drivetrains.
• Customize your car with no limits to your creativity! Create a stylized design with the vinyl editor and choose endless paint colors.
• Upgrade your car to improve top speed and performance on the streets and race tracks.
• Transport export shipments and manage mechanic repair orders to expand your motorsport business beyond your city.
CREATE THE ULTIMATE CAR TOWN
• Customize your tycoon city by building dozens of decorative automobile items, including custom streets featuring curvy asphalt raceways.
• Assemble stunning automobile showrooms in your town to celebrate your passion for cars!
• Construct numerous car factory buildings, production facilities, and research centers in this city builder simulator.
BECOME A RACE CHAMPION
• Satisfy your need for speed as a race car driver by experiencing fun, real racing within a city builder game!
• Put the pedal to the metal in a 6-chapter racing career mode with over 60 races and then burnout on the asphalt in racing trials featuring 1,000+ extra races.
• Tap your way to success by earning the fastest lap times in your car, beating the rest of the competition, and becoming the best racer in the world.
PLAY WITH FRIENDS
• Trade cars and automobile parts with your motor city friends to optimize factory production in your car town.
• Visit a friend's town to see their top cars and explore their city builder progress!
• Play competitive racing events! Climb the leaderboards to earn unique rewards for your town and cars.
REAL LICENCED CARS
Drive off the production line with these top licensed cars, add them to your car maker town, upgrade them with your garage mechanic, and compete in tap racing:
• Lamborghini Murciélago (2002)
• Ford Mustang GT (1968)
• Mitsubishi Lancer Evolution VIII (2004)
• Chevrolet Corvette Stingray (1963)
• Nissan Skyline 72 (1972)
• Porsche 718 Cayman (2018)
• BMW M2 (2018)
• Subaru WRX STI (2018)
• … and more!
There are tons of other famous cars that are also ready to be collected! Have fun building them all and then drive them from the streets of your car town to the challenging racing tracks!
Do you enjoy building the best cars, being the manager of a car factory production line, or turning your car town into the ultimate racing city? Go beyond idle gameplay at a junkyard or farm — drive to the start line, rev your motor, and start tap racing today! Overdrive City is a car maker and city builder game for fans of car games, city building games, tycoon simulator games, car mechanic simulator games, race manager games, and racing games!
WHAT'S NEW
Various bug fixes and improvements.