Aerofly FS 2021 20.21.19 Apk + Data Full for Android
Aerofly FS 2021
20.21.19
Apk + Data Full for Android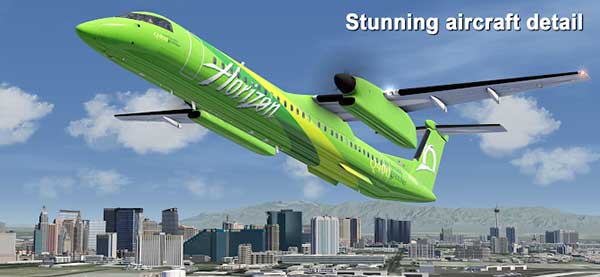 Aerofly FS 2021 is the latest installment of the popular Aerofly FS series for mobile devices. Aerofly FS 2021 packs in computer generated traffic and more features, improvements and detail than ever before in the series with now over 200 airports from all over California, Nevada and Arizona to land at and with over 300,000 square miles to fly over you will always find something new. Looking for even more? Expand your flying area and get the new regions of Southern UK and Southern Florida. Do you have what it takes to land a Boeing 777 at an international airport or to land a helicopter on a small helipad safely? You will get your chance.

Whether you are a novice pilot or a seasoned veteran, Aerofly FS 2021 has you covered.

FEATURES

• 23 aircraft included: Boeing 777, Airbus A320, Airbus A380, EC-135 helicopter, Robinson R22 helicopter, F-18, Dash-8 Q400, Learjet 45, C172, Baron 58, ASG 29 glider, Pitts S-2B biplane, B737-500, B747-400, F-15E, King Air C90 GTx, Aermacchi MB-339, Corsair F4U, Extra 330, Bücker Jungmeister Bü 133, Swift S1 glider, P-38 Lightning and Sopwith Camel
• Over 200 airports from all over California, Nevada, Utah and Colorado
• Additional regions like Southern UK, Switzerland, Southern Florida, Utah and Colorado
• Display traffic information and flight traces
• Assisted flying copilot
• Highly detailed, animated and interactive 3D cockpits
• Lighted cockpit at night time
• Automatic navigation tuning ( ILS, NDB and VOR )
• Realistic flight physics
• Sophisticated autopilot
• Interactive Flight school for learning the basics of flying
• High resolution aerial images of the San Francisco Bay Area
• Over 300000 square miles flyable area
• Display terrain features like mountains, lakes and cities for easy navigation
• Adjustable time of day
• Configurable Clouds
• Adjustable wind, thermals and turbulence
• Replay system
• Different view modes
WHAT'S NEW
This update includes the following changes:

– Reduced memory usage at complex airports
– Improved cockpit texture resolution on lower graphic settings
– More static aircraft at selected airports

Please note: We have changed the location where optional region downloads are stored. Unfortunately this requires, that you have to download all regions again. We apologize for this inconvenience, but this step was necessary to keep those downloads persistent when we update Aerofly FS 2021.