War Planet Online: Global Conquest 3.7.3 Apk for Android
War Planet Online: Global Conquest

3.7.3

Apk for Android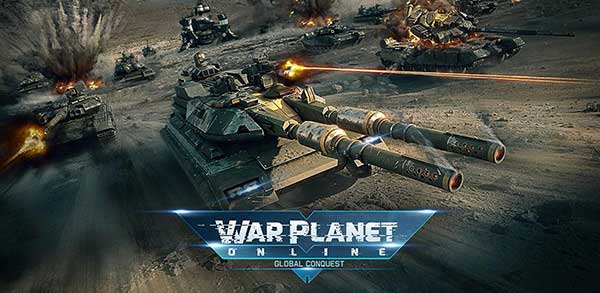 When the entire world is at war, bold generals rise to the challenge by bringing out the big guns. Take action in the most exciting MMO real-time strategy game!
Build your own custom base to form the backbone of your defense and to survive your enemies' assault. Then stockpile troops, tanks, helicopters, and other weapons of modern warfare and march your army across a real-world map unlike any other multiplayer military game you've seen.
Form an alliance with other players to expand your battle capabilities, and launch a global assault using intricate, real-time strategy to command and conquer. Take over key cities like New York, Paris, Tokyo and more to gain influence over your region, and eventually become a superpower that can issue orders that affect the entire world. But the stronger you become, the more of a target you become, so prepare for battle after battle in this nonstop game of war!
**GAME FEATURES**
AN EXPANSIVE WORLD
► War Planet Online is the only MMO military game to pit players against each other on a massive real-world map.
► Play with thousands of RTS players from around the world that can become members of your alliance, or the next target of your guns.
► Talk with friends and foes alike in the Global Chat as you plot your real-time strategy.
► Discover key cities across the map that grant unique bonuses to their controlling alliance.
CUSTOM DESTRUCTION
► Order the construction of base buildings for defense and production.
► Amass a fully battle-ready army by combining your troops, tanks, artillery guns and air support for your own style of modern warfare.
► Recruit the best Commanders you can find to lead your army on each assault, and maximize your power to command and conquer.
► Commander Add-Ons even let you customize your Commanders with powerful new skills and bonuses.
► Conduct research to unlock new technology. Each discovery powers up your battle game plan, be it more powerful tanks, stronger defense, an accelerated economy, or your own custom mix.
► Craft a variety of gear and upgrades for your guns and other tools of modern warfare.
RTS ACTION
► Order your army to battle anywhere around the massive real-world map.
► Coordinate with your alliance to call for backup during battle and maximize the destruction of each assault.
► Survive the constant action of a never-ending, real-time, multiplayer strategy game!
RULE THE WORLD
► The World HQ is the heart of the conflict! All players will work together to construct it… while simultaneously vying to control it.
► Vote for a World President or Dictator! Each gets to issue orders that reshape the overall nature of the game's strategy.
► Launch your own Orbital Command, a space station from which alliance leaders can unleash powerful effects across large sections of the global map.
► Cross-World Conflicts pit your world against enemies from different worlds!
THE EVOLUTION OF WAR GAMES
► War is always evolving, and new units and gear for your Commanders are added with every update!
► As your World HQ grows, the world itself changes with it, unlocking new features for all players, and new strategies to learn and master.
► Seasonal events bring fresh new Renegades into the battle for you to march against.
There's no time to lose, General! Download War Planet Online and join the ultimate MMO strategy game experience!
_____________________________________________
WHAT'S NEW
What's new in Update 27?
[MAIN FEATURES]
– The Faction Wars SEASONS bring extra milestones to conquer, with super rewards and bonuses to win.
– 4 new Faction Wars maps
[SEASONAL CONTENT]
– Easter chain event & mini-game
– Golden Week chain event & mini-game
– 2 new Offensive Commander Add-Ons
– 4 crafting items
– The First Three Purchases Reward: Get powerful gifts after your 3rd purchase
– The Vixen Force Renegades
[QUALITY OF LIFE]
– Holiday Emojis, Avatars & Frames
– Minor bug fixes