Counter Attack Team 3D Shooter 1.2.53 Apk + Mod + Data for Android
Counter Attack Team 3D Shooter
1.2.53
Apk + Mod + Data for Android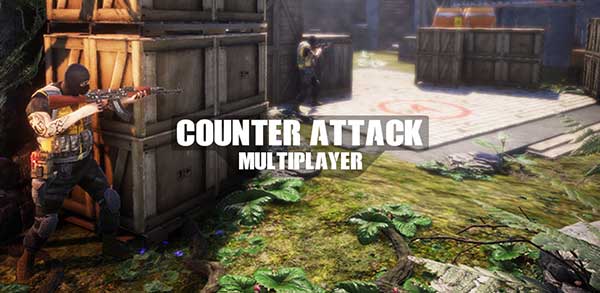 Counter Attack Features:
• Offline Practice with Bots
• Multiplayer
• Up to 10 players in one game.
• 3 Different Game Modes
• Defuse Bomb
• Deathmatch
• Gun Game
• Monthly and Weekly Leaderboards with rewards for the top players
• Daily Rewards
• Daily Missions with rewards
• Milestones with rewards
• Player leveling system with rewards!
• Skill based gameplay – all the weapons have different recoils, spray and reloading time.
• Customize your game match, set a password and play with your friends!
• Customize Crosshair and Controls
• 5 different maps
• Rampage
• Iraq
• District
• Snow Yard
• Morocco
• Stunning high quality 3D graphics
• Case system
• Common Case
• Rare Case
• Epic Case
• Special Case
• Different type of weapons and guns
• Knifes: Butterfly, Huntsman, Karambit, Bajonett and Push Knives
• Pistols: Glock, USP, Tec-9, Five Seven and Desert Eagle
• Shotguns: BM4 and M3super90
• SMGs: Mac 10, MP5S, UMP45 and P90
• Assaults: Ak47, M4A1, French Assault, AUG and SG556
• Snipers: Magnum and Scout
• Grenades: Molotov Cocktail, Frag Grenade, Smoke Grenade and Flash Grenade
• Equipment: Kevlar, Defuse Kit and different gloves
• Weapon Attachables
• Silencer
• Kill Track
• 94 different skins for your weapons
• Adjustable game controls
• Save your data to our cloud server
• English, Russian, Brazil, Portuguese, Turkish, Bulgarian, German, French, Italian, Spanish, Romanian, Chinese and Hindi Languages support
The game and it's Multiplayer features are in Beta stage of development, we will update it very often to bring you new content, bug fixes, performance and gameplay improvements. If you find a bug please contact us via our social networks or use the support email.
Join our community:
Public Discord Chat – https://discord.gg/4GTy4z2
Facebook – https://www.facebook.com/sevenbullsgames/
VK Network – http://vk.com/counterattack3d
Youtube – https://www.youtube.com/watch?v=KRxiXL3Ji3g
WHAT'S NEW
• Bug and Crash Fixes
• Molotov & Grenade bug fixed
• 40 New skins
• 12 New stickers
• Gold Level UP Pass
• Map Bugs fixed
• Game Economy redesign with new store, better offers and more.