War and Order 2.0.31 ( Full ) Apk + Data for Android
War and Order

2.0.31

 

(

Full

) Apk + Data for Android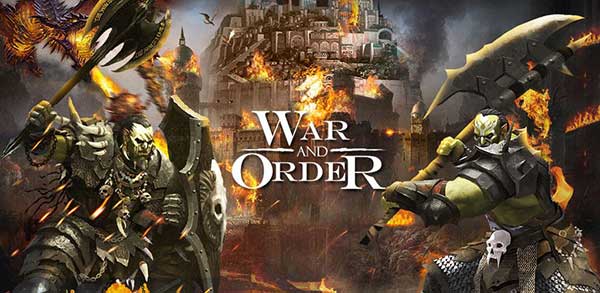 Build your own world in this strategy war game! War and Order is the perfect fusion of real time strategy, tower defense, and castle building games and has received several Global Google Recommendations.
Orcs, elves, and mages are yours to command in a gorgeous 3D medieval game world. Raise a massive fantasy army for HUGE fully animated battles. Clash with enemies from all over the world in real-time! Choose your alliance and take castles, slay monsters, and stake new territory as a tribe! This is WAR, and there's never a dull moment as your screen lights up with constant new battles, chats, and upgrades!
You must battle to become more powerful than any king in history in this dangerous war game. It's up to you, your strategy, and your allies to conquer an endless world of empires and imagination.
★HOMELAND
• Recruit and train over 50 fantasy soldiers, uniting Orcs, Elves, Humans, Mages, Beasts, and Angels.
• Your ultimate building game: Construct and upgrade tons of buildings for new soldiers, buffs, and resources!
• Research new magic and technology FAST for cutting-edge tactics and weapons!
★ALLIANCE
• Friend, feud, and chat with players from around the world in real time.
• Fight and build together to conquer enemies and build castles you could never hold alone.
• Share and expand territory for exclusive bonuses!
• But remember! This is a war strategy game. Tust no one!
★CONFRONTATION
• Sweep the battlefield in huge real-time PvP matches!
• Build your force to leviathan proportions!
• Engulf other lords' castles as you expand your territory.
★CONQUEST
• Command and conquer other players' castles to plunder their resources and climb power rankings!
• Vanquish roaming monsters for their treasures, from man-eating Ogres to massive Dragons.
• Play castle defense games and protect yourself and your allies from would-be conquerors.
★EMPIRE
• Not just a one castle game: Take over the Royal City to rule over the realm with unheard of power and privileges!
• Explore unknown lands to find elite resources, ancient ruins, and more surprises!
• Grow your alliance territory for richer rewards and resources!
Follow War and Order on Facebook:
https://www.facebook.com/WarandOrder1/
WHAT'S NEW
War and Order has a new look for the 6th Anniversary with the Cargo Cart changing into a cake. The relevant events are coming soon!
Today's update:
1. Fixed the display error for the "Slay Monsters" mail during the "Governing Scale" event.
2. Unlock the "Winter is Coming" event in some Realms from January 15 to January 19. Coming soon!