SWORD ART ONLINE: Memory Defrag 2.6.1 Apk for Android
SWORD ART ONLINE

: Memory Defrag

2.6.1

Apk for Android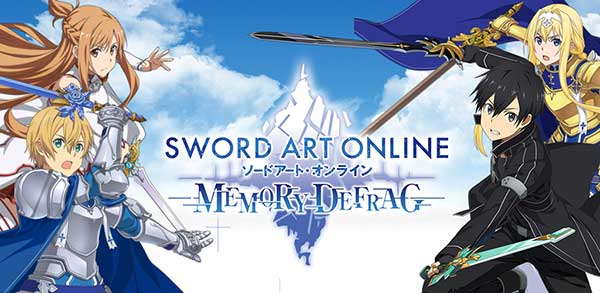 Sword Art Online: Memory Defrag is a free 2D anime adventure action RPG game inspired by classic arcade beat-em ups with simple intuitive one touch controls!
Experience the action RPG that contains every aspect of Sword Art Online as characters crossover from the manga, games, and side stories all in one epic anime adventure!
HUNDREDS OF Sword Art Online CHARACTERS AT YOUR FINGERTIPS
– Collect beloved characters such as Kirito, Sinon, Yuna, and LLenn and more daring sword fighters from the SAO manga and anime!
– Upgrade characters with unique weapons and equipment, such as the Elucidator and Dark Repulser swords!
– All new versions of beloved characters available only here!
FLUID, ACTION RPG GAMEPLAY
– Tap to attack and unleash blistering combos!
– Swipe to dodge devastating attacks from terrifying floor bosses!
– Block & parry, then SWITCH! to finish your foes.
ENTHRALLING STORY
– Relive the classic arcs of the popular Japanese anime adventure and manga series as our heroes traverse the virtual MMO RPG of Sword Art Online!
– Experience virtual action-packed game adventures from outside of the anime such as Ordinal Scale and SAO Alternative: GGO!
– Explore all-new stories unique to SAO: Memory Defrag!
LIVE ONLINE MULTIPLAYER
– Party up with friends and other players in LIVE co-op missions!
– Become a Healer, Attacker, or other traditional RPG roles and unleash devastating combo moves with your allies
Guide Kirito and the Assault Team through the virtual RPG world of Sword Art Online, as they fight to clear 100 floors of Aincrad and free themselves from the death game! Gain new allies in Alfheim Online and battle to ascend the World Tree. Travel to the barren world of Gun Gale Online to stop the killer "Death Gun" before he strikes again!