Ninja's Creed: 3D Sniper Shooting 4.1.0 Apk for Android
Ninja's Creed:

3D Sniper Shooting

4.1.0

Apk for Android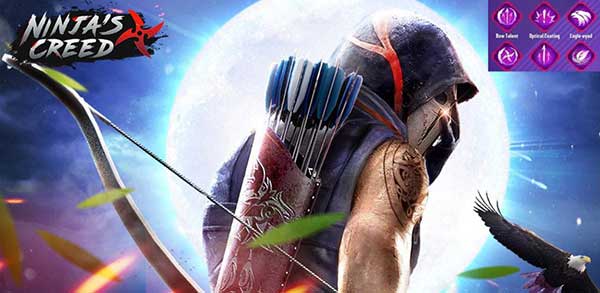 Ninja's Creed is a free fun 3D real sniper assassination game with various types of assassination weapons. You will feel a real powerful shooting experience and top great 3d graphics. You need to hide your identity, secretly eliminate criminal gangs, disrupt underground deals, or assassinate supreme leaders of the crime forces, become the king of each region! Crush them all! It's the No.1 shooting game that combines elements of Ninja assassin in 2020. Lock in target and end the evil with an arrow, become the invisible protector of the city! Be the hero, you are skilled-shooter!
📍 Gameplay:
● Track targets, disrupt underground deals and complete assassination missions
● Use the Eagle-eyed to lock target
● Help organization to eliminate enemies and gain your bounty
● Aim and shoot, eliminate criminal leaders and end evil in the city
● Rule regions, protect citizens, and get the taxes you deserve
● Claim rewards, buy powerful weapons
● Unlock talent system, enhance skills
📍 Features:
● Free epic action game with ninja assassin elements! You can play it without any paying!
● Top cool game graphics, exquisite 3D characters and cool maps, shocking slow-motion shooting.
● Excellent game design and level design, experience the real ninja assassin's career.
● The first-person perspective, smooth motion animation, bring you a non-stop action experience.
● A variety of powerful weapons are available to use, such as bows and arrows, twin-crossbows, hidden weapon and so on, build your arsenal.
● Rich gameplay and modes, such as main story, hunting list, daily tasks, dominator, armed conflicts, bounty hunter and so on. You won't stop playing.
● Use Eagle-eyed will help you locking targets in missions.
● Unlock talent to enhance skills and improve assassination strength.
● Eliminate evil gangs, become the king of areas.
Development team perfectly combined a variety of elements such as ninja assassin, action shooting, and born this unique action archer assassination game which named Ninja's Creed, you can call it bow game, arrorw game, assassin game, 3d shooting game or cool fps action game, both ok! It is easy to play, using the new arrow deceleration special effect technology, which gives you different shooting experience every time you shoot. Ninja's Creed is definitely the first-person bow and arrow action game that you have been expected. As a ninja shooter, you not only need shooting skills, but also get powerful weapons to improve your strength. We choose different weapon this time except for gun, though no guns in game, you can use unique weapons to get a special game experience. Use your weapons in a reasonable way and upgrade them, eliminate bosses as a bow master! Selecting the right weapon in different tasks will help you complete the task faster! Aim your target, be the archer king!
Experience this free and cool archer game now! Become the top dominator of these regions, guard the city and justice! Aim and shoot, crush them all!
Welcome to join our Facebook: https://www.facebook.com/NinjasCreedGame
WHAT'S NEW
* Added two new PVP characters and weekly event task for new runes
* Optimized PVP function
* Optimized rune interface
* Optimized other contents to give you a better gaming experience
Welcome to share your opinions with us on Facebook or Discord!
Facebook: https://www.facebook.com/NinjasCreedGame
Discord: https://discord.gg/J5jbv2tGRK