MARVEL Super War 3.16.0 Apk + Data for Android
MARVEL Super War
3.16.0
Apk + Data for Android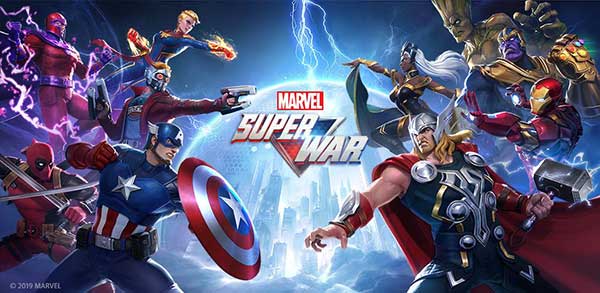 Marvel's first mobile MOBA game! Leap into battle in new costumes inspired by Marvel's Black Widow alongside the new challenger Taskmaster!
Marvel and NetEase Games have teamed up to deliver the most dynamic, eye-popping and faithful recreation of the Marvel Universe on the mobile screen. Get ready to explore more possibilities and experience the action like never before!
Iron Man vs. Captain Marvel, Spider-Man vs. Deadpool, X-Men vs. Avengers! Epic 5v5 real-time super battles are about to shake the vast cosmos!
What are you waiting for? Grab your friends, form your ultimate squad and explore into the new and unknown Marvel MOBA-verse.
Come and Fight As A Super Hero!
—-Take to the Battlefield in Combat!
5v5 real-time super battles in Wakanda battlefield are about to shake the vast cosmos! With rich jungle resources and a dynamic map, win team battles by creating your own unique strategies, and through teamwork!
—-New Costumes inspired by Marvel's Black Widow
The Marvel's Black Widow limited time event comes to MARVEL Super War with new costumes!
—-Taskmaster Leaps Into battle!
Super Villain Taskmaster and his photographic reflexes join the battlefield! Claim victory with the ultimate mercenary!
—-Over 50 Unique Super Heroes and Villains
MARVEL Super War features authentic Super Heroes from across all the Marvel universe. Choose from a huge cast of Heroes and Villains, each with unique styles and skills to join the ultimate all-star brawl.
—-Fair and Balanced Combat
No pay-to-win rune system! Balanced heroes mean balanced combat. Reputation and achievements must be earned through skill and perseverance. Enjoy the thrill of besting your opponents in fully fair fights.
—-Fight As A Super Hero!
The stage is yours! Play as your favorite character and show your strength with special attack combinations, dynamic effect and movement abilities. Create your own highlights on the battlefield!
WHAT'S NEW
New Content
1. A new season begins with Season 8!
2. S.H.I.E.L.D. has released Battle Pass 016!
New Hero
A new hero, Thena, has joined the fight!
New Skin
Iron Man's all-new Space War series skin is now available!
New Events
1.The "Marvel Studios' Eternals" Inspired Event begins!
2.Black Widow and Taskmaster's movie-inspired Black Widow skins are once again available for a limited time!
3. There are great prizes to be had in the new season! Complete quests to claim heroes and skins!