Little Singham Cycle Race 1.1.174 Apk + Mod for Android
Little Singham Cycle Race
1.1.174
Apk + Mod for Android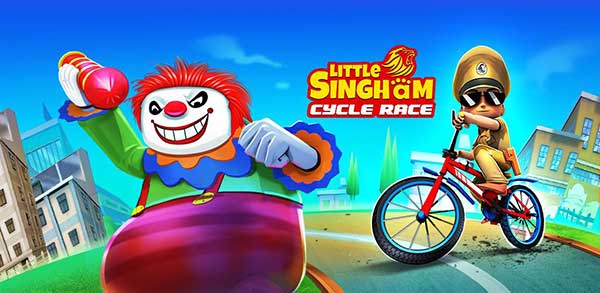 Junglee Joker is on the lookout to cause trouble to the residents of Mirchi Nagar. Along with his wicked pals Kallu and Ballu, the cunning Junglee Joker is a nightmare for innocent people. But, worry not! Little Singham is here for the rescue!
Junglee Joker's circus is definitely not a place for fainthearted. While India's youngest Supercop Little Singham takes it on himself to see that Junglee Joker's plans never get realized, hop in for a thrilling ride and help Little Singham to capture the troublesome clown and bring him to justice.
Explore the scenic Mirchi Nagar and ride through the Mirchi Nagar City School to collect as many coins as you can. Slide through concrete pipes. Jump over incoming cars and barricades. Grab Magnets on the run to collect all the nearby coins. Seize all the Shields on your way and run through obstacles. Use trampolines and power slides to boost up your jumps and help Little Singham grab more coins.
Collect character tokens and unlock the Army, Navy, and Air-Force avatars of Little Singham from gift boxes that you collect on your run. Coins are really useful as they help you upgrade your Power-ups to last longer.
Participate in daily challenges and earn amazing rewards. Take up various missions and complete them to increase your XP multiplier. Connect and play with your Facebook friends and challenge them to beat your high score.
Play Little Singham Cycle Race and explore the "Masti" with Mirchi Nagar's own superhero.
• EXPLORE the vibrant city of Mirchi Nagar
• DODGE, JUMP, and SLIDE through obstacles
• Collect COINS, gather REWARDS and complete MISSIONS
• Get Free Spins and earn Lucky Rewards with the SPIN WHEEL
• Accept the DAILY CHALLENGE to earn extra Rewards
• SCORE THE HIGHEST and beat your friends using exciting power-ups
– The game is also optimized for tablet devices.
– This game is completely free to download and play. However, some game items can be purchased with real money within the game. You can restrict in-app purchases in your store's settings.
WHAT'S NEW