Elly and the Ruby Atlas 1.3 Apk + Mod (Unlimited Gold) + Data for Android
Elly and the Ruby Atlas

1.3

Apk + Mod (

Unlimited Gold

) + Data for Android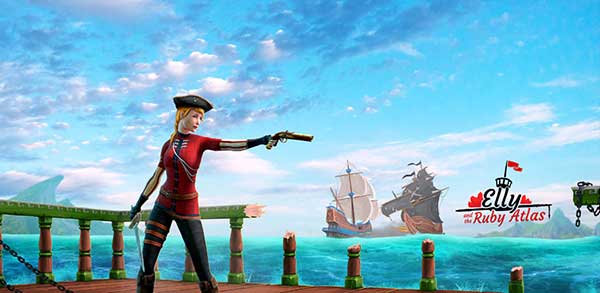 Elly and the Ruby Atlas is a FREE OFFLINE adventure RPG game that puts you in the shoes of an explorer from the age of pirates. You play as Elly, the young captain of a carrack, who must trade and fight in order to bring a vile pirate to justice and recover a precious family heirloom. Travel to dozens of towns, trade valuable goods and resources, defeat enemies, upgrade and customize your ship and equipment! The world is yours to discover!
◆ Brave, determined, and with a sharp mind, Elly is ready to fight and bring justice back! Find unique blueprints for items, craft epic weapons and armor, equip and use them against your enemies.
◆ Take good care of your ship so that you can travel the seas and withstand hazardous weather and raids. Recruit crew, upgrade, customize and increase its cargo capacity to maximize your trading profits. Not to mention, it's your home for inventory and crafting.
◆ The enemies you will encounter have two major factions: pirates and colonists. Enemy type influences behavior and fighting style in this free offline RPG. Also, enemy bosses will be armored, so you're going to need to break armor pieces with combo attacks.
◆ Trade is the most efficient and rewarding way of getting your hands on some gold. Each of the 20+ towns have their own economy that produces or consumes certain goods and they follow the supply and demand logic. There are 10 goods that can be traded and all you need to do is buy low and sell high.
WHAT'S NEW
Explorers, we have been paying attention on how you interact with our game and it was clear that we needed to do a better job showcasing the various game-mechanics.
These are the full patch notes:
• New and improved tutorials
• Enemy balance
• Combat music variation
• Fixed an issue that caused the player to block without pressing the button
• Added glow effect to combo button for when its ready to use
• UI improvements