Darkfire Heroes 1.28.1 Apk + Mod + Data for Android
Darkfire Heroes 1.28.1 

Apk
+ Mod + Data for Android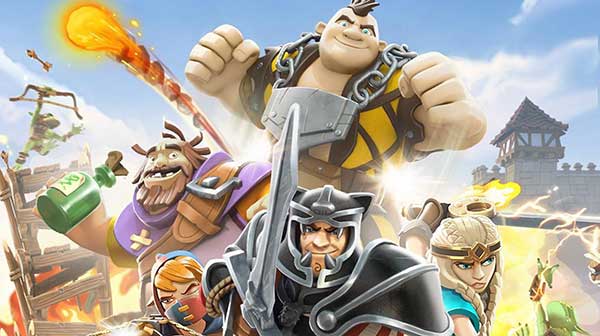 Collect and battle with more than 50 heroes from six unique factions in this fast-paced action fantasy RPG game.
Assemble your team, decide your strategy, and lead the attack in real-time battles against hordes of enemies! Prove your skills as you cast magical spells and unleash powerful special attacks to save the lost realm.
Upgrade your heroes and customize your gear to master battle tactics as the massive campaign pits you against evil minions, brutal boss enemies, otherworldly beasts, ancient dragons, and opponents from all over the world in the PVP Arena.
STRATEGIC COMBAT
Your team strategy can make or break your success. Pick the right heroes and spells for the battles ahead, equip them with magical gear and ensure that they are fully upgraded and ready for strategic RPG combat. With more than 50 heroes, 20 spells, and hundreds of skills and gear pieces, the tactics are almost limitless.
COLLECT COOL HEROES
Assemble mighty teams of knights, sorcerers, archers, clerics, wizards, assassins, warriors, priests and even more to defeat the forces of darkness. Each hero has their own unique special attack and custom skills, so you decide if your team should focus on area damage, single target attacks, healing or maybe a mixture of everything.
BRAWL IN THE PVP ARENA
Show your skills in real-time combat to dominate the PVP Arena. With a constant carousel of gripping PVP modes, you'll never get bored of crushing your friends & other players from around the world in game modes ranging from head-to-head fights to thrilling contests. Build the right team and use it to rule the PVP Arena, climb up the Trophy Road rankings and claim valuable loot!
FIGHT EPIC BOSSES
Take on a real challenge and confront the deadly bosses for the most valuable loot. Vanquish lich lords, giant spiders, fire breathing dragons and much more – and if you believe your team is strong enough, do it again on a harder difficulty level for even more powerful rewards.
EXPLORE A MASSIVE CAMPAIGN:
Enter the fantasy realm of Darkfire Heroes and go on a heroic adventure. Explore hundreds of levels across more than 10 breathtaking locations with even more to come as your team journeys from ancient valleys to haunted castles, across frozen peaks and volcanic mountains. Your heroes are the only hope to defend the free lands.
Download and play Darkfire Heroes:
★ Enjoy the fast-paced thrills in this epic, free-to-play action fantasy RPG game
★ Assemble and lead a team of brave heroes in real-time battles against the evil hordes
★ Choose the ultimate team of more than 50 heroes and spells for each quest
★ Brawl in the epic PVP Arena against players from all over the world
★ Earn chests and collect valuable loot to upgrade your heroes, spells and gear
★ Save land after land from the corrupted minions as you explore a massive campaign
WHAT'S NEW
With the new year the final level of the campaign has been added along with 2 other new areas, prepare yourself for the final fight in the Darkfire Crucible. We also present Nightmare mode, the ultimate challenge fit for the highest level players. To aid you in the upcoming challenges we have added hero power boosts to the remaining roster of heroes allowing them to reach their ultimate potential.