Bleach Brave Souls 13.6.0 Apk + Mod (One hit kill) for Android
Bleach Brave Souls
13.6.0
Apk + Mod (

One hit kill

) for Android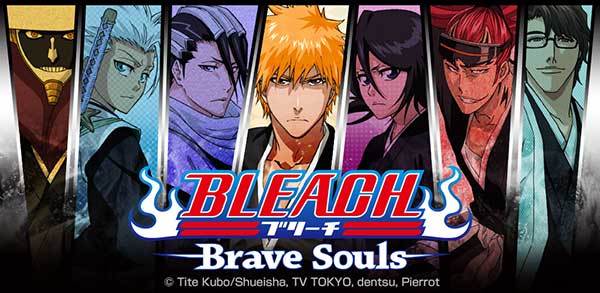 The first smartphone 3D action game based on the mega-hit manga and anime Bleach.
Build a team using your favorite characters from the Bleach universe!
EXCITING 3D ACTION
3D graphics and simple controls make for free-flowing and fast-paced hack-and-slash action.
EPIC SPECIAL MOVES
Unleash each Bleach character's unique special moves to carve your way to victory. Special moves are fully voiced by the original Japanese anime voice actors.
THREE'S COMPANY
Combine your favorite characters into teams of three. You can even make combinations of characters you would never see in the original story. The possibilities are almost limitless!
RELIVE THE BLEACH STORY
Follow the Bleach story from the moment Rukia and Ichigo first meet. Develop your characters as you complete quests that recreate pivotal scenes from the story.
PLAY WITH & AGAINST OTHER PLAYERS
Pit your best warriors against other players' teams and vie for the top spot in weekly PvP leagues, or go online and team up with other players in exciting PvE Co-Op Quests and Epic Raids!
DEVELOP YOUR CHARACTERS
Brave Souls features a highly flexible character improvement system that allows you to create exactly the warriors and the team you want. Enter battle and earn experience to level up characters and improve their base stats, Ascend them to increase their max level, train them on the Soul Tree to further improve specific stats, or link characters together to provide additional support. The choice is yours!
Official Site
https://www.bleach-bravesouls.com/en/
Facebook
https://www.facebook.com/BleachBS.en/
Recommended OS
Android 4.1 or later
The following permissions are necessary to play this game.
Storage Access
Permission: READ_EXTERNAL_STORAGE
Permission: WRITE_EXTERNAL_STORAGE
Necessary for the game to be able to store game data in an external location. These permissions only apply to Android versions earlier than 6. For Android 6 or later, you can still play the game even if you decline these permissions.
Identity (find accounts on this device)
Permission: GET_ACCOUNTS
Necessary to receive push notifications.
—————————————————–
© Tite Kubo/Shueisha, TV TOKYO, dentsu, Pierrot